Top Ten: Bourbon Wish List 2018
How can it possibly be time for another Top 10 Bourbon Gents Wish List? We guess time flies when you're having fun, so here we are again another year later with our latest "we want" list.
Some of our State side readers may have a little chortle and wry smile on their faces when they read our list because they may find some of the entries on here readily available in their local liquor stores. For the poor old Gents though living in Blighty, this unfortunately is not the case. Without many exceptions we could probably grab ourselves a couple of bottles each of all the entries on this wish list, but our mortgage lenders wouldn't be too forgiving about it, and quite selfishly our dependents also require feeding on a regular basis.
From last year's entries, Mav continued to buy servings of Eagle Rare 17 but was unable to nab an entire bottle. We tried with all our might to track down a Four Roses Al Young's 50th Anniversary bottle to use for our 50th review on the website but again to no avail. We also missed out on the Four Roses Limited Edition Small Batch 2017, but it's not all bad news with regards to Four Roses. The 2018 Four Roses Limited Edition 130th Anniversary bottle has found its way to Bourbon Gents headquarters and is waiting to be cracked open and reviewed.
So without further delay here is our Wish List of 2018.
Regular readers will know the Gents love a good bourbon tale. This year sees the release of Jim Beam Repeal bourbon, which celebrates the 85th anniversary of the repeal of prohibition. Colonel James B Beam was 69 years of age after prohibition ended and he could finally start producing whiskey once again. He rebuilt the distillery in Clermont, Kentucky in only 120 days. Shortly after, Jim Beam bourbon was produced and has been the biggest selling bourbon ever since. Jim Beam's current master distiller Fred Noe wanted to pay tribute to his predecessors and created this 4 year old non chill filtered Kentucky straight bourbon at a 3% higher ABV than the standard 40% ABV white label whiskey. In the US it retails at around about $18. We can buy it today in the UK but we have to pay a heavy price at the moment. It can be bought for approximately $100. For that price it may have to stay on the Gents wish list for a little longer.
Knob Creek Cask Strength Rye
It had to happen didn't it? Mr Pie sneaks in another rye on the Bourbon Gents wish list. This year's entry is the special, limited-edition Knob Creek Cask Strength Rye whiskey, which was named "Best Rye Whiskey" at the 2018 San Francisco World Spirits Competition. Not quite as prestigious an award as the Bourbon Gents World Cup but it's not to be sniffed at (excuse the pun). This rye whiskey is extra-aged, uncut and unfiltered. Extra aged means for many around 9 years but it is officially a no age statement whiskey and it comes straight out of Warehouse A, which is Jim Beam's oldest standing rackhouse. Released at 59.8% ABV, one can only imagine what sort of Kentucky hug that would give you. Whilst there are no official tasting notes, all reviews we've read concur that this is an excellent example of a cask strength rye and great value for money. It is going straight to the top of Mr Pie's Santa list.
The Gents are beginning to fall in love a little with the folks at Smooth Ambler Spirits. We have been lucky enough to try a large selection of their portfolio with the stand outs being Smooth Ambler Contradiction, Old Scout 11 year old single barrel and Mr Pie insists on waving a flag for the single barrel rye too (no surprises there). Smooth Ambler Big Level though has so far escaped our clutches and we very much want to change that as soon as we can. Big Level Bourbon is a wheated bourbon 100% mashed, distilled, aged, proofed, and bottled at the Smooth Ambler distillery in West Virginia with no chill filtration. The mash bill is 71% corn, 21% wheat and 8% malted barley and the whiskey is 5 years of age and over. Reviews have been mixed (they usually are), but we are very keen to participate in these reviews and have a real hunch about this wheated bourbon. We think it will be an absolute little cracker. We'll keep you posted.
Moving up a level now from a couple of readily available bourbons in the US to one which folks even there will find a little tricky to get hold of. Probably an unrealistic entry for a UK wish list but if you can't dream a little, you may as well give up now. King of Kentucky is a 14 year old single barrel, cask strength straight bourbon with the proof ranging between 125 and 135, which will only be offered in Kentucky (until sold on of course). There are only around 1,000 bottles available and it will also be the most expensive Brown-Forman RRP ever, retailing at $200. The plan from Brown-Forman is that this will become an annual release with barrel quantity fluctuating each year. This year's whiskey came from a total of 16 barrels. Tasting notes are described as having hints of rich oak with intense dark chocolate and burnt caramel sweetness on the nose. The palate has notes of dark chocolate, fudge, dark cherry and an aromatic spice character. It certainly sounds like the King of Kentucky to us. Good luck in your quest in finding this and if you do, please be sure to let us know how you found it.
Matthew McConaughey joined Wild Turkey in 2016 as their Creative Director. At the time it all seemed quite logical for Wild Turkey to join up with a Hollywood superstar for marketing and promotional purposes. Perhaps it was always part of the plan but we didn't realise that he would actually bring some ideas to the distillery with regards to whiskey production. This is also the first Wild Turkey whiskey to be bottled with a signature on the label other than that of Eddie or Jimmy Russell. Wild Turkey Longbranch is an 8 year old Kentucky bourbon, bottled at 43% ABV, refined with Texas mesquite and oak charcoals. It is actually filtered twice during the production process, first with American white oak and secondly using Texas mesquite wood. According to the Wild Turkey website this then creates an 'aroma of balanced blend of vanilla and spices. Flavours of caramel, pear, and hints of citrus round out the palate, while the subtle, smoky finish is buttery smooth—with notes of gentle pepper and toasted oak' Well we don't know about you but we sure find this intriguing and cannot wait to purchase a bottle. Unlike Jim Beam Distiller's Cut (see a very cross number 5 below), this is definitely going to become available in the UK before the end of the year.
The Gents would like to complain to anyone who will listen, this bourbon is not available to us in the UK. In fact we are very cross about it! In other words, we are very jealous. Distiller's Cut is an unfiltered bourbon bottled at 50% ABV and even has an age statement on it of between 5-6 years. Production has been overseen by Jim Beam's Master Distiller Fred Noe who declares that the bourbon is not comparable to any other bourbon they sell. It differs from others by leaving out the chill filtration after the maturation time. This gives the bourbon a more complex character and a full-bodied taste, as the fatty acids are not filtered out. It is purportedly of medium body and combines caramel sweetness with charred oak, enriched with light fruit notes. It has a dark amber colour with aromas of soft charred oak, sweet caramel, vanilla and hints of dried fruit. Wow, sounds amazing and to rub salt in our wounds, it retails in the US for about $23. Did we already say that we are very cross?
We've all had a whiskey on our radar for many years and get over excited when we get the chance to finally try it. Unfortunately for the Gents (particularly Mr Pie), we had probably been enjoying too many other whiskies on this particular night when we struck gold finding this one. We are sure it was everything that we had hoped it would be, but just can't quite remember…so therefore this finds itself firmly on our wish list of 2018. Rock Hill Farms is named after the farmland where Buffalo Trace's President Albert Blanton lived, it is a single barrel, bottled at 50% ABV and uses Buffalo Trace's mash bill #2 (10% -15% rye), it has no declared age statement but is rumoured to be anywhere between 8 and 10 years of age. We are surprised that Rock Hill Farms seems to have a very low key status out there in the realms of social media and you don't seem to see it reviewed very often. We hope to be able to contribute our thoughts to the wider whiskey community very soon.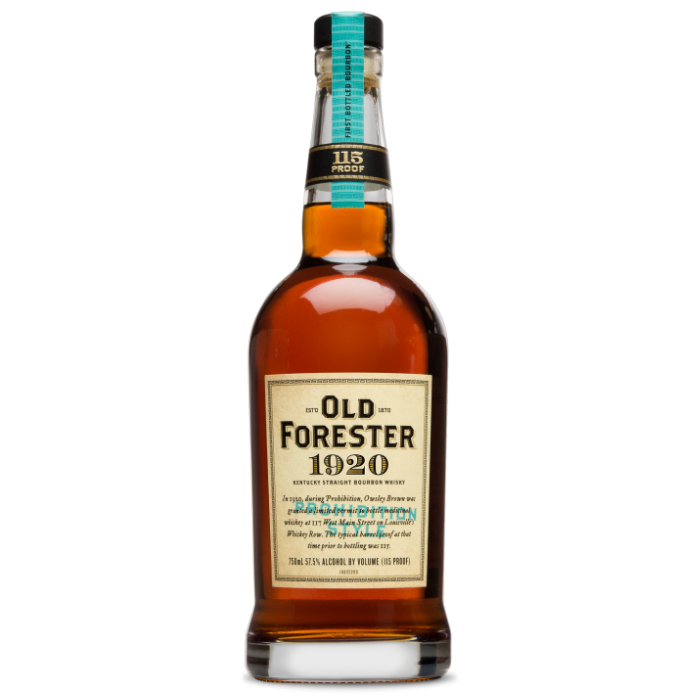 There are not too many bourbons where we can say that we've not heard a bad word said about them, but Old Forester 1920 is one. Part of the Old Forester Whisky Row collection this was the third release in the full set and is a nod in honour of their top Gent Owsley Brown I. To give the bourbon its full name, this is the Old Forester 1920 Prohibition Style and is an attempt to recreate what Old Forester was producing around this time. Brown-Forman was one of the lucky distilleries during prohibition as they were one of only a handful who was permitted a licence to make whisky for medicinal purposes. Bottled at 115% proof with no age statement but at least 4 years old and probably the standard Brown Forman mash bill of 72% corn, 18% rye and 10% malted barley. We've loved the Statesman and 1870 Original Batch whiskies so would be very happy to add this one to our shelves.
Maker's Mark Private Select
If you enjoy the Maker's Mark Cask Strength then you're going to love their Private Select offerings. This is a superb opportunity to try something really unique and customised to a personal tasting profile. This single barrel programme enables bars and retail outlets to choose their own bespoke cask strength barrels. So you take a barrel of cask strength Maker's, choose a combination of 10 finishing staves. There are 5 different flavour profiles to choose from for these staves. They are; Baked American Pure, Seared French Cuvee, Roasted French Mocha, Toasted French Spice and Maker's 46. Give it 9 weeks to mature and hey presto you have created one out of the 1,001 taste combinations which are available. The good news for the UK readers is that this is now available to buy at Harvey Nichols stores and a further release will soon be launched at The Whisky Shop. You can thank the Gents later, enjoy!
Woodford Reserve Batch Proof
This is a limited edition bourbon released as part of the Woodford Reserve's 2018 Masters Collection. It does look as though it will continue to be a part of the Masters Collection for future years with further releases planned (perhaps at different strengths?). Woodford Reserve Batch Proof is simply stated their standard distillers select, same grain bill and process but it is taken from a select group of barrels and bottled at a whopping 62.9% ABV. Interesting use of the words 'batch proof' and not like the majority of distilleries who refer to it as a 'barrel proof'. This doesn't come cheap and has received a fair amount of flak for the pricing structure but the Woodford distillery has been a favourite of the Gents since the beginning of our bourbon love affair and we would so love to grab this given half a chance.